Group Companies
"THINK HAPPINESS AND MAKE THE HAPPINESS."
Under this philosophy, we have created homes and cities by focusing on people and their lifestyles.
In a group-wide effort, we integrate our real estate and other businesses, including housing, hotels, and energy, to maximize our corporate value and produce lasting growth, and continue to take on challenges as a company that makes the future of people and the earth happier.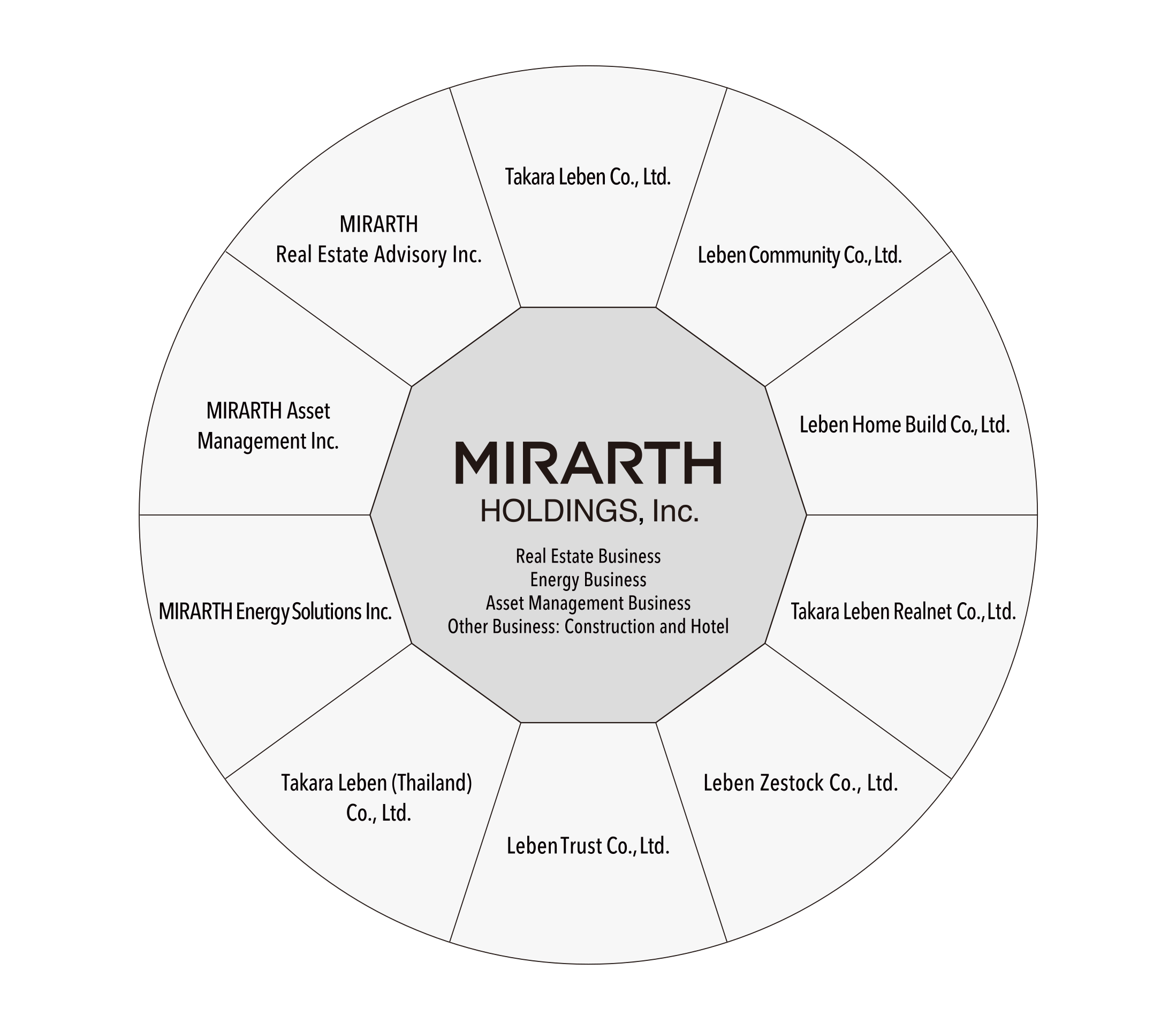 Management of group companies, etc.

Address

Headquarters Tekko Building 16F, 1-8-2 Marunouchi, Chiyoda-ku, Tokyo

Representative

Kazuichi Shimada, Representative Director

Established

September 21, 1972

Capital

4,819 million yen

Property management, rental properties, insurance agency, and rehabilitation service

Address

6-14 Sanbancho, Chiyoda-ku, Tokyo

Representative

Shinsuke Naka, Representative Director

Established

April 1988

Capital

60 million yen

New detached house sales business, construction

Address

Tokyo Head Office: 8F Kinsan Building, 4-1-21 Nihonbashi Muromachi, Chuo-ku, Tokyo
Yokohama Head Office: 6F Kannai Tosei Building II, 4-45-1 Sumiyoshi-cho, Naka-ku, Yokohama City,

Representative

Takuji Arita, Representative Director

Established

July 1987

Capital

2 million yen

Takara Leben Realnet Co., Ltd.Official site

Real estate distribution, consignment sales business

Address

3F Shippo Building, 1-13-13 Nihonbashi Kayabacho, Chuo-ku, Tokyo

Representative

Takeshi Okabe, Representative Director

Established

May 1977

Capital

30 million yen

Real estate purchase and resale, real estate rental business

Address

Yurakucho Denki North Building 16F
1-7-1,Yurakucho,Chiyoda-ku,Tokyo

Representative

Norihiko Yoshimura, Representative Director and President

Established

December 2001

Capital

10 million yen

Rental management, real estate rental business

Address

Shin-Yokohama AK Building 7F, 3-23-3 Shin-Yokohama, Kohoku-ku, Yokohama City, Kanagawa Prefecture

Representative

Shinsuke Naka, Representative Director

Established

January 2016

Capital

60 million yen

Takara Leben(Thailand)Co., Ltd.

Investment in real estate business

Address

689, Bhiraj Tower at Emquartier, 30th Floor, Soi 35, Sukhumvit Road, Klongton Nuea, Vadhana Bangkok , 10110.

Representative

Hiroshi Iwamoto

Established

August 2022

Leben Clean Energy Co., Ltd.Official site

Renewable energy projects

Address

5F Iidabashi Bldg., 1-18, Agebacho, Shinjuku-ku, Tokyo

Representative

Kentaro Taniguchi, Representative Director

Established

March 2016

Capital

6.55 million yen

Takara Asset Management Co., Ltd.Official site

Investment management, type II financial instruments, and investment advisory and agency

Address

Otemachi Nomura Building 16F, 2-1-1 Otemachi, Chiyoda-ku, Tokyo

Representative

Mamoru Takahashi, Representative Director

Established

October 2013

Capital

2.5 million yen

Takara PAG Real Estate Advisory Ltd.Official site

Investment management

Address

2F Kowa No.35 Building Annex, 1-14-15 Akasaka, Minato-ku, Tokyo

Representative

Masayuki Ishihara, Representative Chairman
Tetsuo Saida, Representative Director and President

Established

January 2016

Capital

50 million yen