Utilizing our long-standing expertise in the condominium business, we develop, plan, and sell LEBEN PLATZ, single-family detached homes with an emphasis on light, water, and air.
The LEBEN PLATZ pursues quality and design aimed at increasing comfort for residents and value of the city. This business expands through new services. One example is a service for effectively utilizing land, in which we undertake tasks throughout the whole process, including suggesting proposals for the effective use of land, designing and constructing (work contract), managing operation and maintenance after completion of the buildings.
LEBEN PLATZ

A built-for-sale house brand that incorporates Takara Leben's condominium construction expertise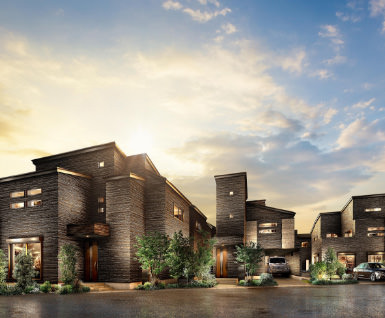 Takara Leben realizes housing proposals that combine the charm of a detached house and the comfort of a condominium under two themes: an "ideal residence that Anyone Can Buy with Confidence and Peace of Mind" and "quality and affordability."
In addition to its focus on the environment and housing strength, including earthquake countermeasures and installation of solar power generation systems, the advanced functionality and design offered by MIRARTH Holdings Group is expanding as a new way of creating housing proposals that can change the concept of a built-for-sale house.
Mirarth Holdings Group's other detached house projects